The German painter and graphic artist EGGERT GUSTAVS (1909–1996) is among the most important artists associated with the Island of Hiddensee in the Baltic Sea. Hiddensee, which has repeatedly been called an "island of painters and poets," was his birthplace and home. Artists and prominent members of German society began flocking to the island in the 1920s. The young Gustavs got to know many of them personally.
Painters such as Willi Jaeckel and Elisabeth Büchsel often stayed on Hiddensee, along with well-known German actors such as Elsa Wagner, Asta Nielsen, Otto Gebühr, and the cabaret artist and writer Joachim Ringelnatz. These celebrities and many others frequented his parents' home, the parsonage of the pastor and expert in Ancient History and Oriental Studies Arnold Gustavs and his wife Helene. Guests such as these gave life on the island a special flavor in summer. This impressed and inspired the young boy, as did his father's friendship with the famous German writer and Nobel laureate Gerhart Hauptmann. Eggert Gustavs and his three siblings thus grew up in a liberal-minded atmosphere conducive to the cultivation of both art and science.
To realize his dream of becoming an architect, the young Gustavs enrolled at the Landeskunstschule (University of Fine Arts) in Hamburg. Yet he soon felt stifled by the teachings of style there and feared for his freedom and own artistic style. Moreover, he found himself increasingly attracted to painting and printmaking. In Berlin at the Bauhaus, he came in contact with Wassily Kandinsky, by then already a world-renowned avant-garde artist, whose lectures and personality fascinated him. Kandinsky was probably the only contemporary artist Gustavs acknowledged as a role model. When the Bauhaus was closed down, he decided to go his own way – as a freelance, largely self-taught artist.
Illness dogged his path through life. Yet by exercising iron self-discipline and making many sacrifices in his lifestyle, he reached the grand old age of eighty-six. Sometimes he survived by sheer good fortune. In 1945, for example, a wad of photographs saved his life during a grenade attack: it was only days later that he discovered a shell fragment lodged among the family photographs in his wallet, which he wore close to his heart.
Gustavs was a true islander and a "Hiddensee artist" in the widest sense. All his work was always infused with his love for the island he called home. Probably no one else has captured the island's austere beauty and hidden charm in such a wide variety of motifs and moods with such sovereign mastery and intensity of expression, while using so many different techniques.
Watercolor and woodcut were his principal means of expression, yet his versatility is a constant source of wonder, ranging from soft watercolors to delicate graphic prints to bold, compelling linocuts and wood cuts. Be it pen, brush, or pencil drawings, oil paintings or pastels, prints on glass, or figure wood carvings, his works always bear the stamp of an unmistakable personality. In his portraits and caricatures, he successfully captured typical features with minimum artistic means. Indeed, he was fascinated by what he once called the "face of the landscape" and the "landscape of the face."
Over the decades, thousands of visitors flocked to the permanent exhibition at HAUS GUSTAVS (Gustavs' house), his retreat on the Island of Hiddensee. Time would stand still for them as they viewed the works on permanent display and engaged in lively conversations on all manner of subjects, not merely art, artists, and Hiddensee. To all his guests, Gustavs was a charismatic host, engaging, interesting, open-minded, and cosmopolitan in his conversations. Many aspects of life, world events and existence generally inspired his curiosity, including the written and spoken word. He himself penned a large number of poems, fables, aphorisms, and subtle plays on words, all revealing his fine sense of humor and his wisdom.
For many years, Eggert Gustavs spent the summers on Hiddensee and the winters with his family – his wife Irene Tourneau-Gustavs, a dancer and teacher of dancing, and their six children – at Neuruppin in Brandenburg. Many of his paintings capture the calm and tranquility of the Mark Brandenburg, the lakes and forests of the "Ruppin Switzerland" region, as described by Theodor Fontane in his "Wanderungen durch die Mark Brandenburg" (Ramblings through Brandenburg). The artist found further subjects of inspiration in the South Tyrol Alps, France, the Harz Mountains, but especially on his beloved Island of Hiddensee.
In the studio of his house next to the lake in Neuruppin, Gustavs painted, created linocuts and woodcuts, and produced hundreds of cards with reproductions of his work. His popularity surged with the sale of thousands and thousands of these cards. He carved out a path for himself by combining hard work with a rich imagination and endless creativity, paired with a relentless criticism of his own art.
In 1994, Gustavs donated a significant portion of his artwork to the local museum on his native island. He passed away in 1996. His final resting place is located not far from the house in Kloster where he was born, beneath a boulder bearing his monogram carved with his own hand.
In commemoration of the artist's 100th birthday, his life's work was honored with the release of the book "Eggert Gustavs: Leben und Werk eines Hiddenseer Künstlers" (Eggert Gustavs: The Life and Work of a Hiddensee Artist). In 2009, the museum in Neuruppin and the local museum on the Island of Hiddensee celebrated the anniversary with extensive exhibitions, showing about 150 of his artworks.
From 17 June to 18 July 2010, an exhibition at a major art center in the City of Barcelona also paid homage to the work of the distinguished painter and graphic artist Eggert Gustavs. After visiting a Gustavs exhibition in Germany, Professor Fèlix Bentz, head of the Royal Artistic Circle of Barcelona (RACB), invited the Eggert Gustavs Gesellschaft e.V. (Eggert Gustavs Society) to see a representative selection of the artist's work in the venerable building occupied by the RACB, the Pignatelli Palace. The honorary president of the RACB, which was founded in 1881, is His Majesty Juan Carlos I, King of Spain.
"[...] in a reconnaissance [in 1945 on the Eastern Front], our group of five came under fire from grenade launchers. I received a load of many small fragments, especially in hand, neck, and through the cheek into the mouth. [...] Incidentally, the pack of family photos in my breast pocket saved my life, without which a shrapnel would have hit my heart directly. Days later, I found the splinter between the photos, where it had gotten stuck."
Eggert Gustavs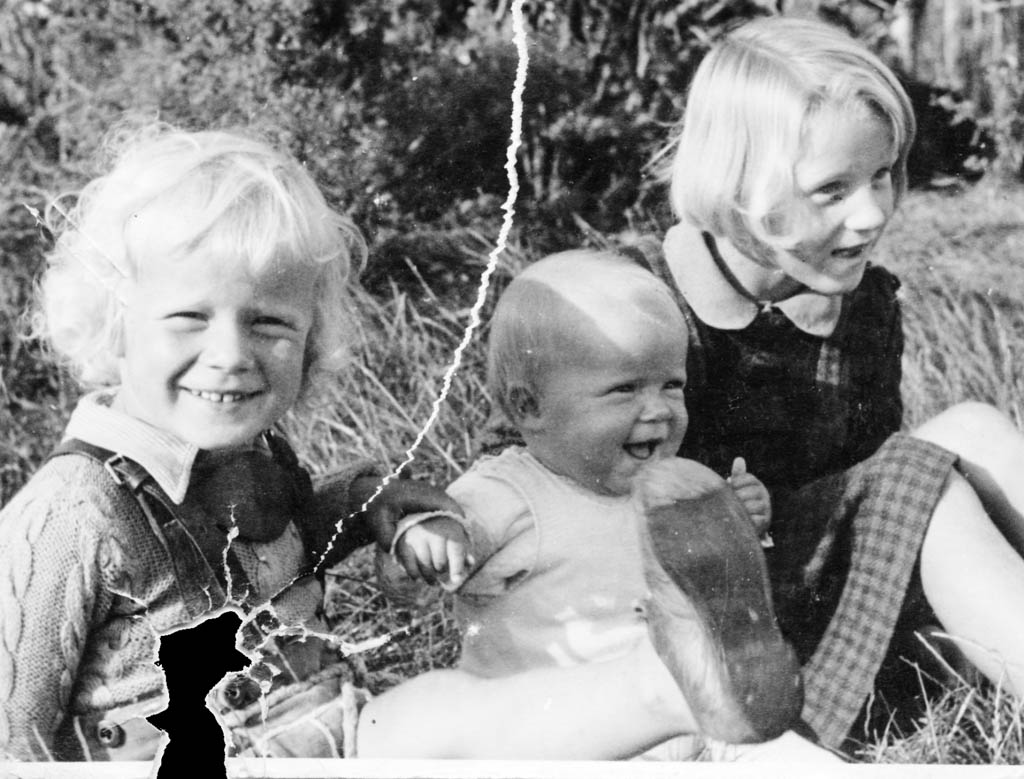 Seine Frau – Die Tänzerin
Irene Gustavs (1909-1994) wurde als Tochter des Kaufmanns Wilhelm Tourneau und seiner Ehefrau Margarete, geb. Ebell, in Neuruppin geboren. Ihr Großvater Carl wurde 1910 als Stadtältester und Ehrenbürger Neuruppins ausgezeichnet. Ihre beruflichen Interessen lagen auf den Gebieten Sport, Tanz, Medizin und Architektur. Sie absolvierte zunächst eine Ausbildung als Tänzerin und Choreografin in Berlin an der Trümpy-Günther-Schule ‒ stark beeinflusst von den damaligen Protagonisten auf dem Gebiet des modernen Ausdruckstanzes Gret Palucca, Mary Wigman und Harald Kreutzberg. Es folgte die Ausbildung zur Tanz- und Gymnastiklehrerin. An der Universität zu Berlin absolvierte sie zudem Kurse in Anatomie und Physiologie.
1934 heiratete Irene Tourneau den Hiddenseer Maler und Grafiker Eggert Gustavs, den sie auf Hiddensee kennenlernte. Mit seiner Unterstützung als Tanzpartner und Werbegrafiker gründete sie die "Schule für Gesellschaftstanz und Gymnastik" im Neuruppiner Elternhaus am Paradeplatz. Das war zu damaliger Zeit eine ungewöhnliche Lebensplanung für eine junge Frau. Ebenso ungewöhnlich wie ihre Hochzeitsreise, die sie nach der standesamtlichen Trauung in Neuruppin mit Fahrrad und Zelt nach Hiddensee führte, um sich vom Schwiegervater, Pastor Arnold Gustavs, kirchlich trauen zu lassen. 
Während der ersten Berufsjahre veranstaltete sie oft Solotanzabende ‒ unter anderem nach Musik von Schubert, Beethoven, Mozart und Weber ‒ mit eigenen Choreografien und mit selbstentworfenen Kostümen. Ihre Auftritte in Neuruppin, Magdeburg und Berlin ‒ an der Volksbühne und im Grand Hotel Esplanade ‒ aber auch auf Hiddensee waren stets sehr erfolgreich. Ihre Pläne, eine künstlerische Laufbahn als Tänzerin einzuschlagen, hat sie allerdings zugunsten der eigenen Familie mit 6 Kindern aufgegeben. Dennoch haben Generationen bei ihr das Tanzen und gute Umgangsformen gelernt. Sie wurde mehrfach ausgezeichnet und schaffte es mit ihrer Tanzgruppe bis ins Fernsehen. Sie schrieb einmal: "Tanz ist für mich Ausdrucksform gesteigerten Lebens. Stimmungen und Zustände der menschlichen Seele finden in den Tänzen geformten und geklärten Ausdruck." 
Irene Gustavs war weltoffen und interessiert am politischen Geschehen. Die persönliche Bekanntschaft mit Eva Strittmatter bereitete ihr ebenso Freude wie ihre Besuche bei Gret Palucca in Dresden und auf Hiddensee. Ehemalige Tanzschülerinnen schwärmen noch heute von ihrer tollen, immer jung gebliebenen Tanzlehrerin, die ihnen beim Training noch mit 70 Jahren einen Spagat vorturnte. Auch ihr Enkel Heiko denkt gerne an den Tanzunterricht und das Vortanzen mit seiner Großmutter. Modern und unabhängig im Denken, kreativ und fleißig, dabei voller Frohsinn, Heiterkeit und Optimismus ‒ so ist Irene Gustavs im Gedächtnis vieler Neuruppiner geblieben.